We are proud to offer Independent Living with assisted living services available.
Our rental accommodation package covers all of the bases, giving you the time to make new friends, go for a stroll with the grandkids down to the fishing pier or just laze around in the courtyard. Someone else looks after the cooking and the cleaning, the maintenance and the management. We take care of the work.
Good nutrition is important, especially as we age. As we get older our bodies no longer retain vitamins and minerals as they did when we were younger, making it much more important to have good healthy food for every meal. Our Red Seal chefs are proud to offer savory home made meals for lunch and dinner daily. No packages, powders or preservatives. Just good home made meals. See us for a sample menu.
Licensed subsidized home care providers are available for you as your needs change in the privacy of your own suite (your cost). Your care is personal and arranged directly between you and the Island Health Authority.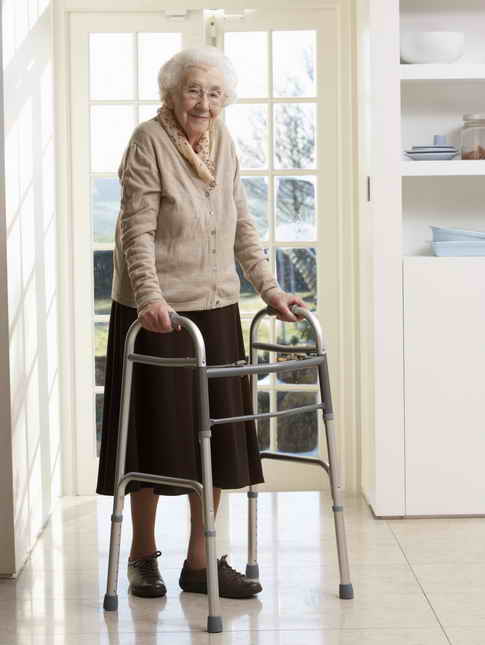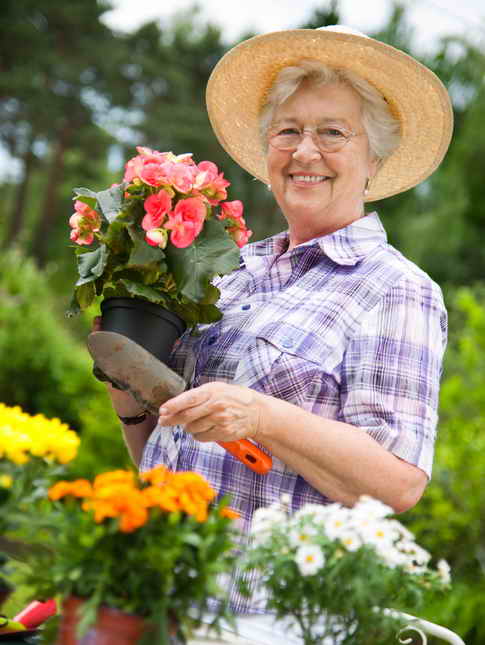 Come enjoy the ease of all-inclusive living in the best location in the City.
Your monthly rental fee includes weekly housekeeping with fresh linens and bed making, leaving you time to take an art class or, hmmm, what would you like to do? We'd like to know. Speaking of things to do, there are so many choices that it might be hard to fit everything into your schedule. One of everyone's favourites is Happy Hour on the patio in the summer or in the Jazz Bistro when its nice to be inside. The guided exercise classes are very popular too. Not to worry about keeping it all straight as the monthly Leisure Calendar will let you plan your days.
The workshop will be set up for silver smithing and wood working. Do you like gardening? The raised garden beds in the courtyard are for you then. Our bus will make scheduled trips for appointments weekly. Sometimes it will be taking finely dressed ladies and gentlemen to the Chemainus Theatre. Or maybe the guys would like to go to the Air Museum in Sidney, just let us know.
Designed With Your Lifestyle in Mind
Our suites are unfurnished with well designed space for your belongings. Our one bedroom suites range from 520 square feet to 600 square feet, with the largest having a second balcony off the bedroom. Our two bedroom suites offer a "California" floor plan with two generously sized bathrooms.
Each suite has a Tea Kitchen with an apartment sized fridge with separate freezer, individually controlled heat, balcony or patio, and in-suite storage including a linen closet, entry coat closet and storage room. We don't call the storage room a den as some others do because it is small, averaging about 25 square feet. But necessity is the mother of invention, and these in-suite "storage" rooms have been used as sewing rooms, wine making rooms, offices and a play room for the great grandkids. Who knew? That's up to you.
Oh, and we are pet friendly (some restrictions apply). They are part of the family too!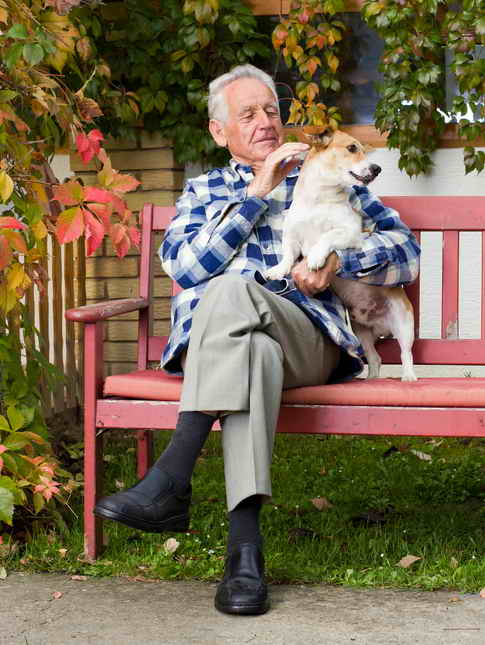 Are you ready to be Cherished?
Give us a call for more information or to be invited to our next Information Session. We'd love to hear from you.
With our most affordable suites rented, we currently have suites available from $2,895 per month ranging from 530 sq. ft to 865 sq.ft.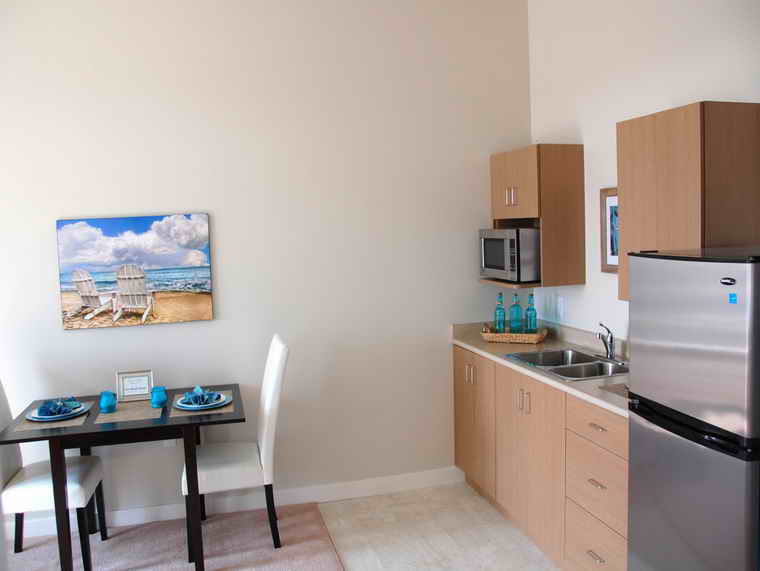 Tea Kitchen – The Ash Suite
Our tea kitchens in the Ash suite, pictured left, have everything but a stove. Who needs to cook with four food services per day ready for you to enjoy? There's also a common kitchen with full cooking facilities in the Family Dining Room. Our rental suites offer two choices for kitchens. For the folks that just insist on having a stove, we have one rental suite currently available with full kitchen with stove and dishwasher. It is the last one available.
Master Bedroom – The Ash Suite
Time for a new picture! The scaffolding is long gone, and now our builder is too! The floor plans are designed around with furnishings in mind for the most comfortable and efficient use of space. The Ash rental suite bedroom shows a queen sized bed here. This suite is furnished as a show suite how your furniture may fit, although the suites do not come furnished. Window coverings are included.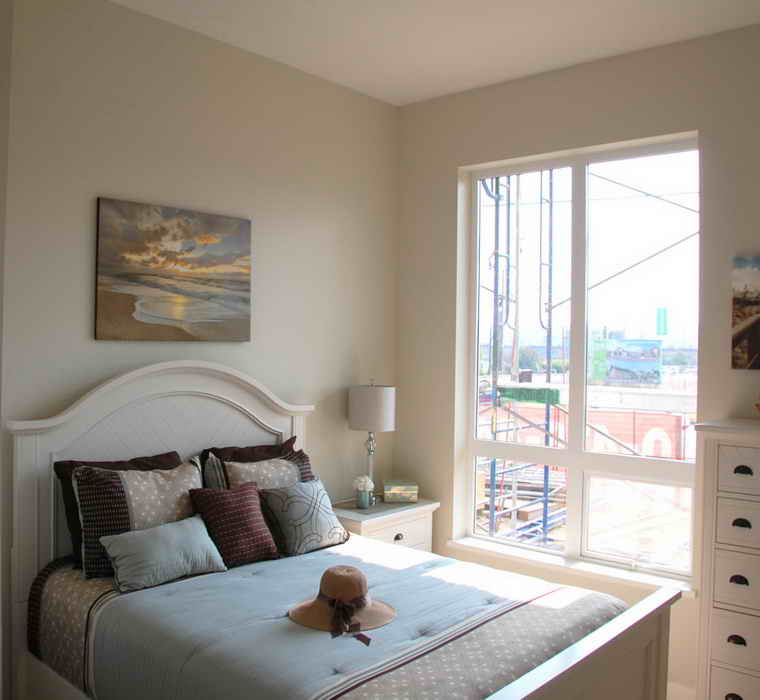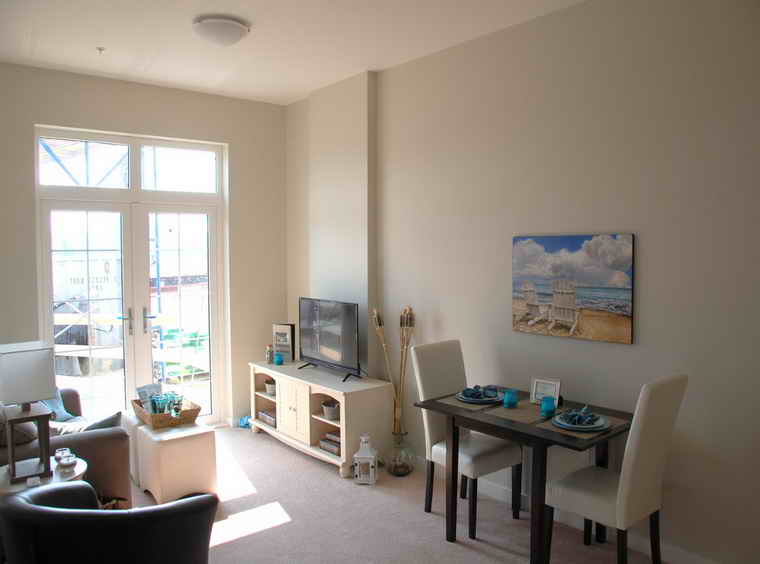 Living Room – The Ash Suite
The main floor Ash Suite living room has french doors that open up to a private patio. All suites have either a patio or balcony.
Living & Dining Area – The Erica Suite
The main floor Erica suite features 2 bedrooms and 2 bathrooms, 10 foot ceilings and french doors that open out to a large private patio. At 825 square feet, the Erica is perfectly comfortable for a couple or two friends. It is our highest priced suite at $4,495 per month (single), and the last main floor two bedroom suite we have available. It also includes one underground secure parking stall.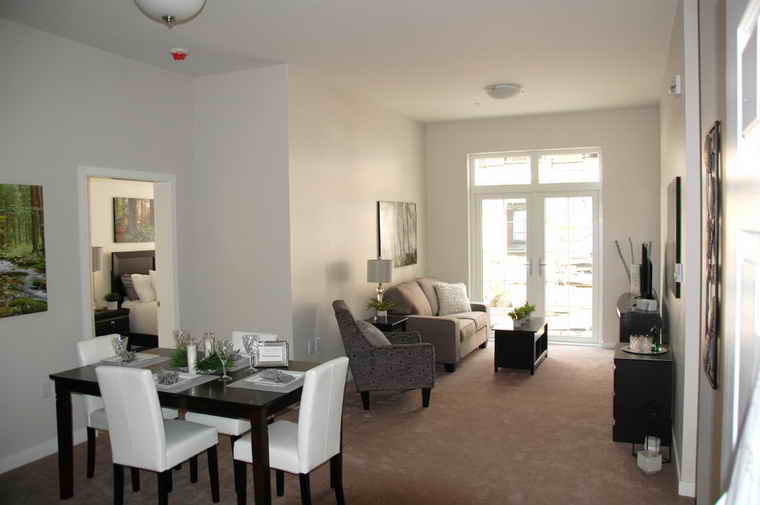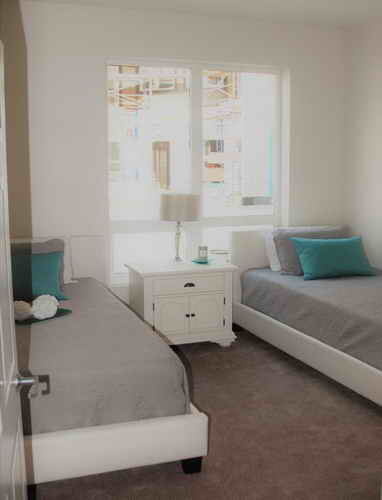 Second Bedroom – The Erica Suite
The second bedroom in the Erica suite is large enough for two twin beds, or a generously sized sewing room or (insert your idea here). Window coverings are included.