We are open and ready to show you around.
Victoria's newest Premier Community Living Residence
A non-traditional retirement community, it is like no other.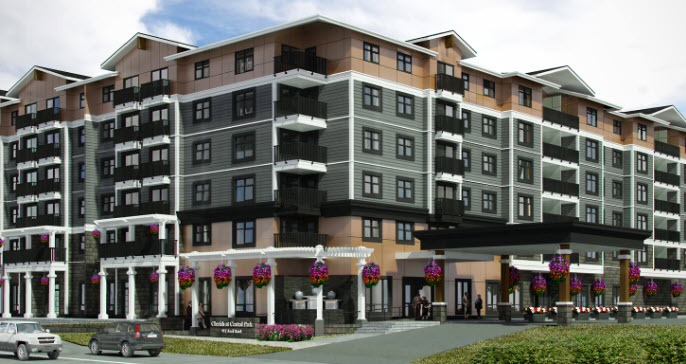 Located in the heart of the West Shore in Greater Victoria, Cherish at Central Park offers its residents more than just a home. We offer community. You will be able to access a variety of resources and living options as your needs change, this will significantly enhance your lifestyle. The amenities and services awaiting you will be first rate, at affordable pricing, creating great value for seniors.
From our independent living hospitality services, to the restaurant and bistro, party room, lounges, guest suite, billiard room, gym, library, art studio and workshop to the signature outdoor gardens, Cherish at Central Park will set a new standard in supportive adult living. Our Medical Services Office is available to Open Hearts Companions and Beacon medical professionals who can provide services to you in the privacy of your home, at your convenience. Large two master bedroom suites offer two large ensuite bathrooms, balconies or private patios – a suite large enough for two to share – making our suites luxurious and even more affordable! Our available one bedroom all-inclusive suites with balcony start at $2,795 per month.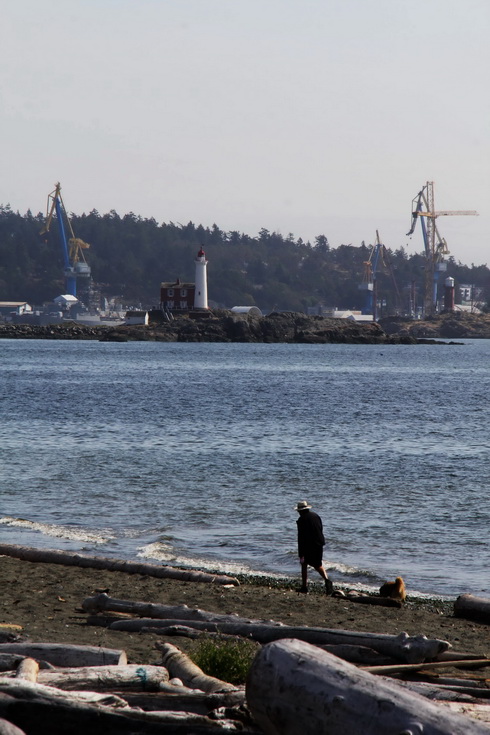 Dental Clinic 
Cherish is pleased to host a dental hygienist clinic one monthly. Call 250-884-9333 and ask for Danielle to book your appointment at Cherish!
Blood Pressure Clinic
Do you live close to Cherish and want to have your blood pressure checked without having to go the doctor? Call 250-478-4431 to book your appointment with Nicole Donaldson, RN of Open Hearts Companions in our Medical Services Office.
Cherish at Central Park is Cherish Community Living at its best. We have designed an adult supportive neighbourhood with seven floors where you have a choice; you can buy an age-friendly condo and purchase optional supportive services or enjoy the simplicity of an all-inclusive rental suite. Our suites range from 520 sq. ft. to 865 sq. ft. each designed to accommodate your furniture. Whatever your choice, our community will surround you with opportunities for multi-generational activities and involvement. Our bright south facing courtyard will host many sunny afternoon garden parties. We bring the community in!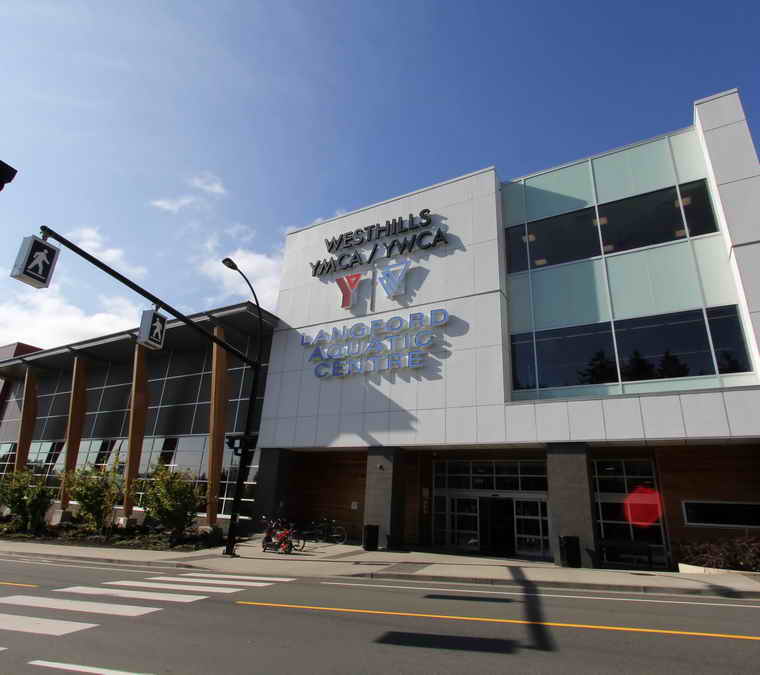 Ideally Located
Ideally located, right between a flat beautiful wooded resdential area and a step away from the largest of Greater Victoria's shopping malls with two grocery stores, medical and dental offices, a pharmacy, a Walmart, Canadian Tire, restaurants, bakery, Tim Horton's, banks and lots of fun shops for every taste. The new YM/YWCA Aquatic Center and Conservatory of Music are a short walk away. City Center Park Entertainment zone complete with outdoor fitness circuit and loads of entertainment venues is a block away. The new Cineplex Odeon six screen theatre along with Winners, Dollarama, Starbucks, The Brick, Fairways Grocers, Bulk Barn, Original Joe's, Romeo's, White Spot, Noodle Box, Purdy's, drycleaner and more, right across the street. The Galloping Goose walking trail and Langford's extensive trail system a block away. Royal Colwood Golf Club is on the other side of the mall. Equally exciting is the new 160,000 square foot Belmont Market retail center directly across the street, which promises a beautiful new Thrifty's grocery and London Drugs. A life of total convenience – everything you could possibly want is here!
The Location
We are located at corner of Jacklin and Jenkins Roads in downtown Langford, BC's fastest growing community. The site is a truly fantastic location – and especially great for senior living – just steps away from everything and flat for easy walking. The property has streets on three sides, Jacklin and Jenkins for good people watching and Avrill for quiet easy vehicle access. The building sits on the diagonal to the north making sure that every suite gets sunshine. The building is "U" shaped with a south facing courtyard.
Cherish at Central Park is only a five minute walk with the grandchildren to the new Central Park, Glen Lake and Langford Lake fishing pier. Close by Langford Lanes Bowling Alley, Royal Roads University and West Shore Recreation Center offer a variety educational and recreational programs for the young at heart. There are numerous golf courses, bike and walking trails, lakes for swimming, boating and fishing – all right here!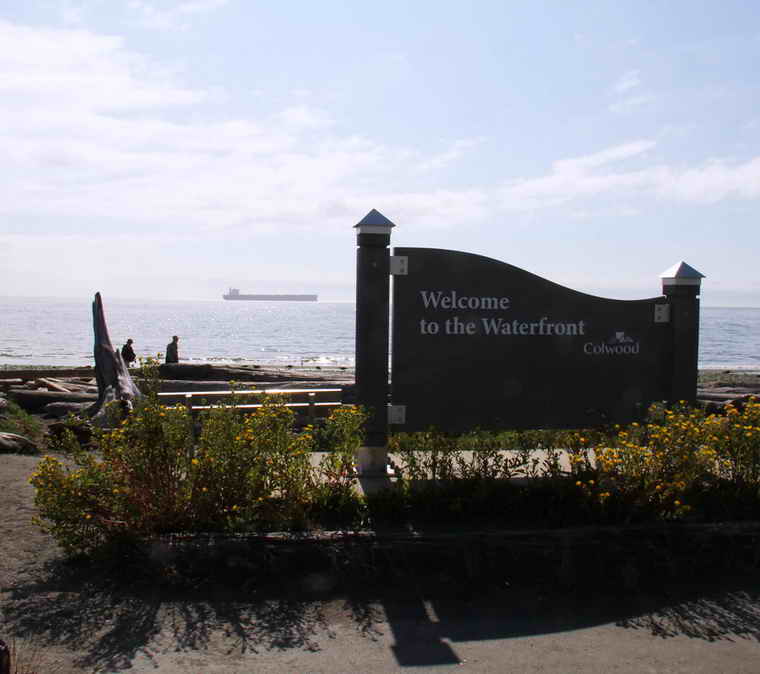 DISCOVER LANGFORD. DISCOVER GOLD. MAKE THE MOVE.
YOU WILL LOVE IT!
SUPER CONVENIENT LOCATION
In the heart of Victoria's Westshore. Quiet residential on one side and Victoria's largest shopping area on the other. Your choice of views – huge fir trees or busy active view!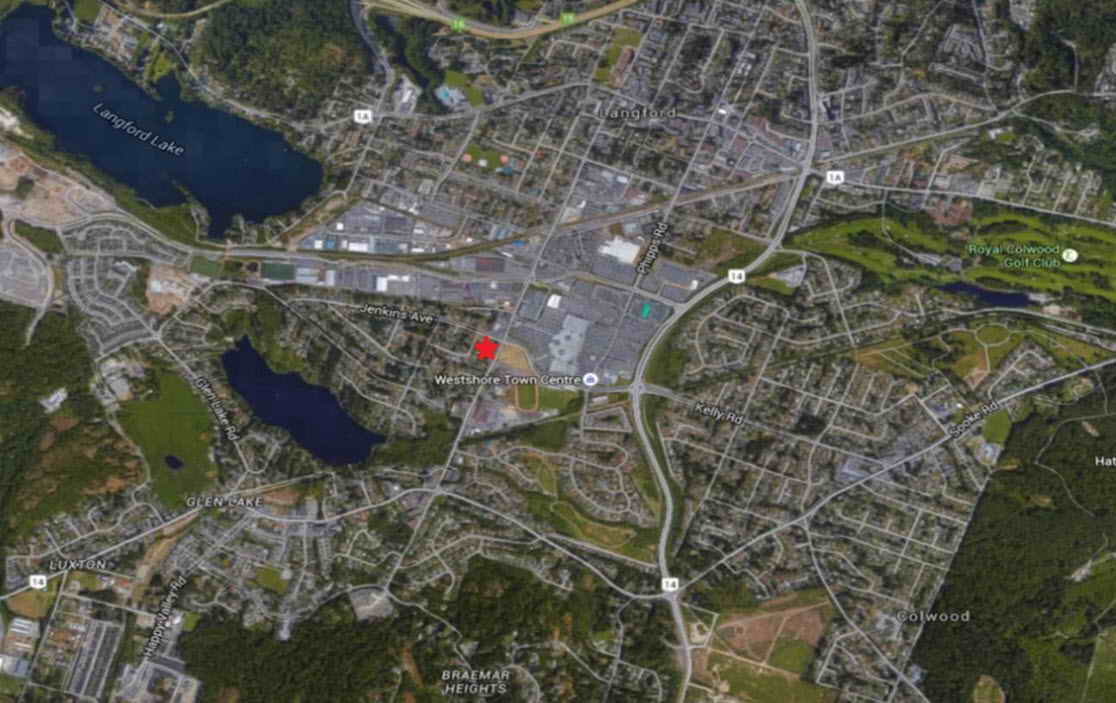 Expect a bright and cheerful building with 24 hour staffing.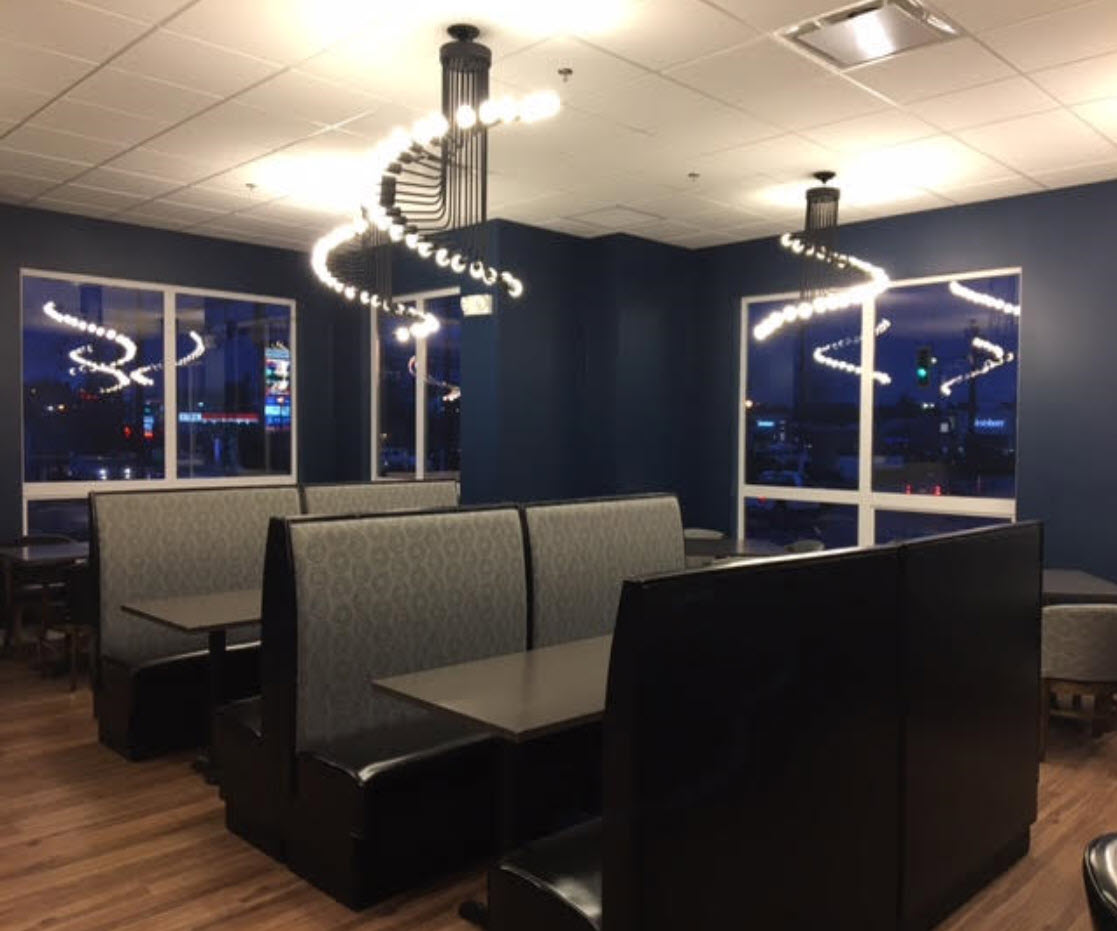 Come enjoy the live music, a snack and a beverage in our licensed Jazz Bistro
The Baldwin Baby Grand in our entry lobby carries beautiful melodies down the hallways.
Do you like to play?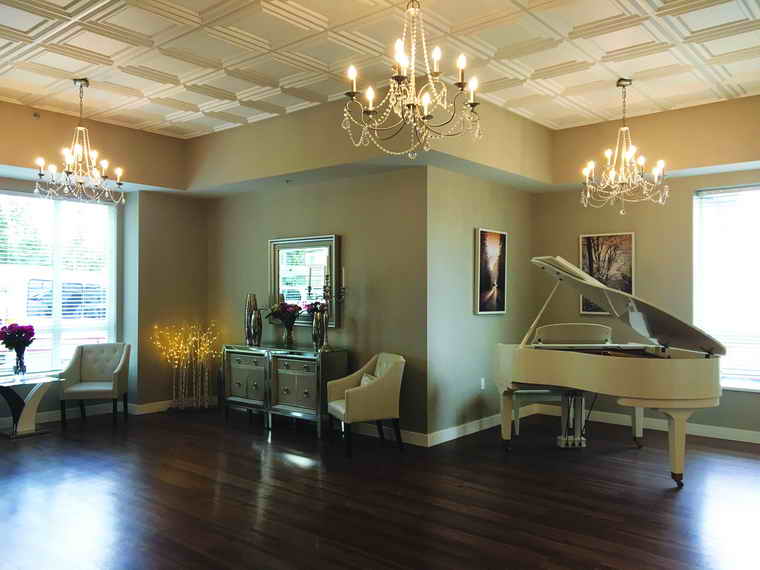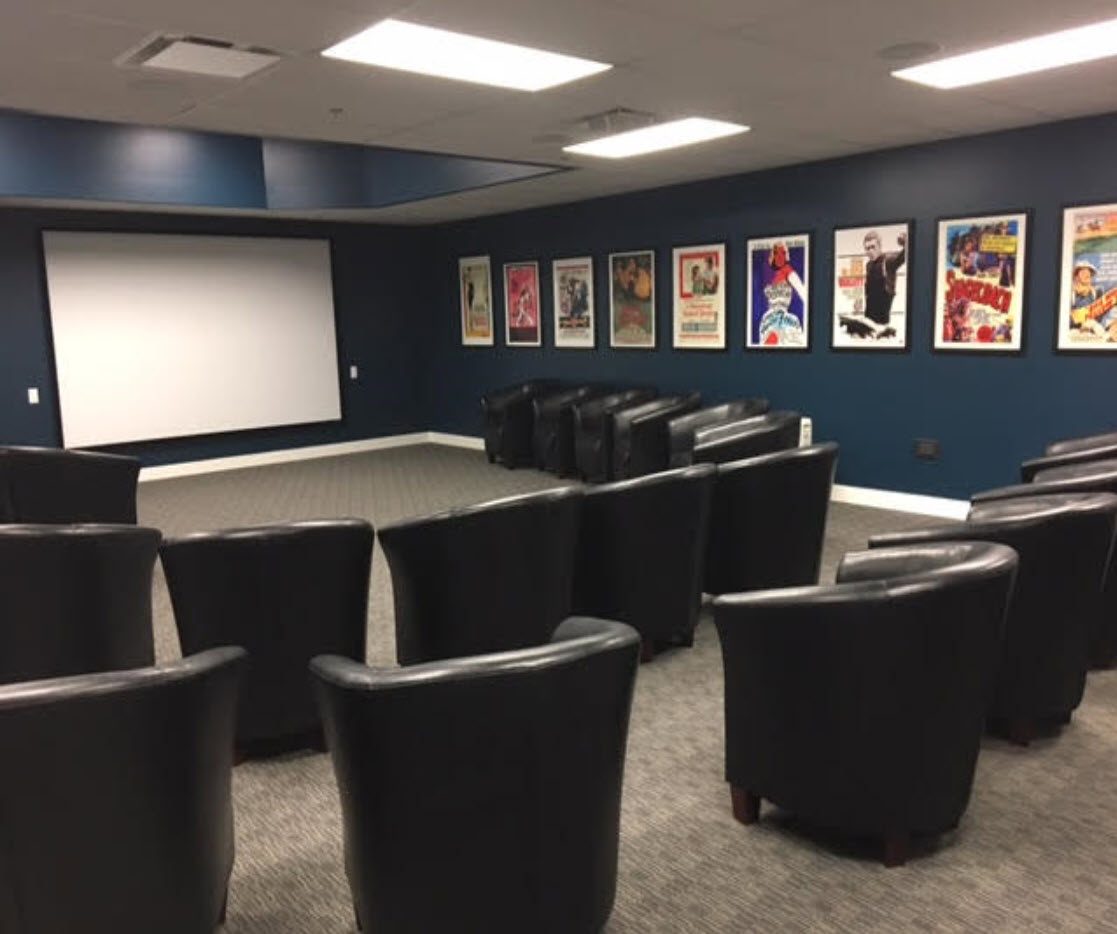 How about watching a movie or the big game in our warm and inviting theatre complete with high definition quality projection and a WOW sound system.
For the last Royal Wedding we hosted "Tiaras and PJs" complete with crumpets and creme at 4AM, because if you are a real Royal Watcher, it has to be live!
The Courtyard Lounge hosts tea service every day at 9:30am and 2:30pm.
Enjoy freshly ground coffee, an assortment of teas, fresh fruit and still warm from the oven baked goods with friends.
It is a great way to start the day. Every day!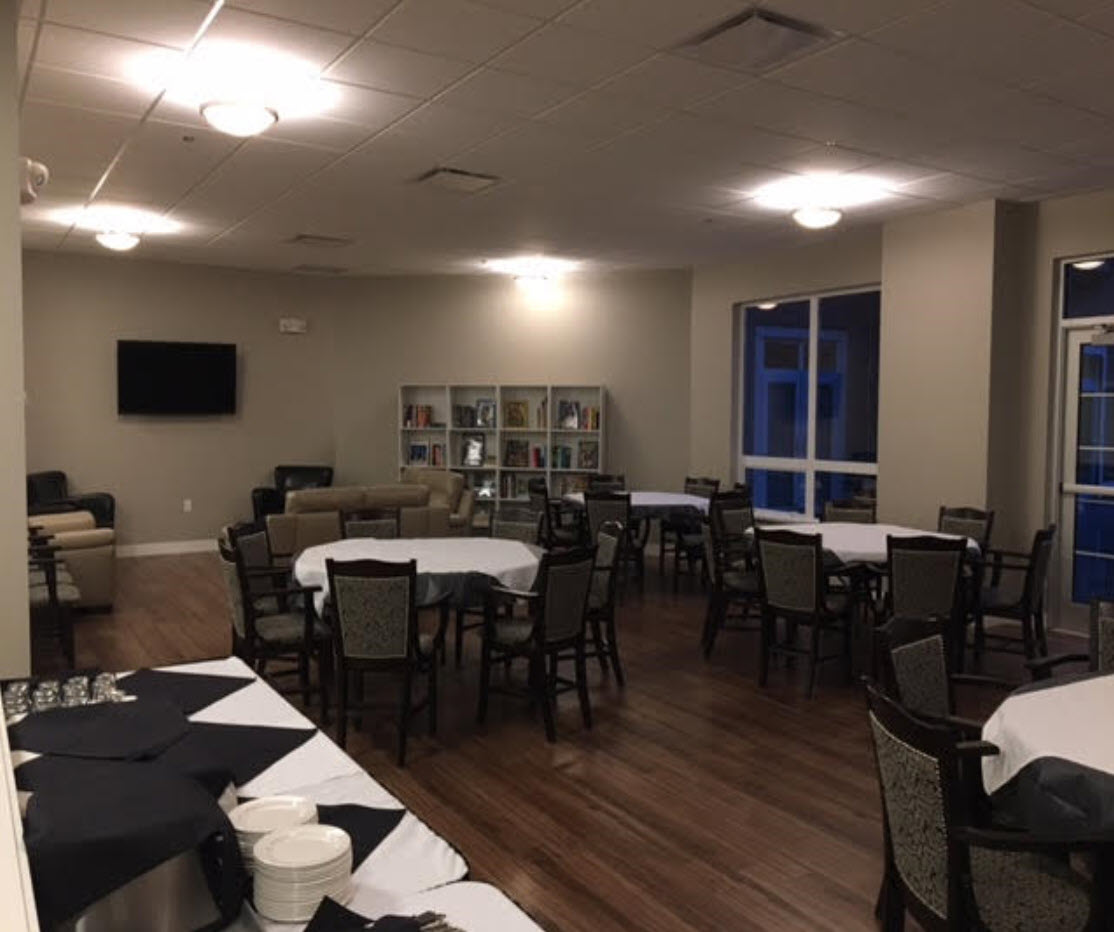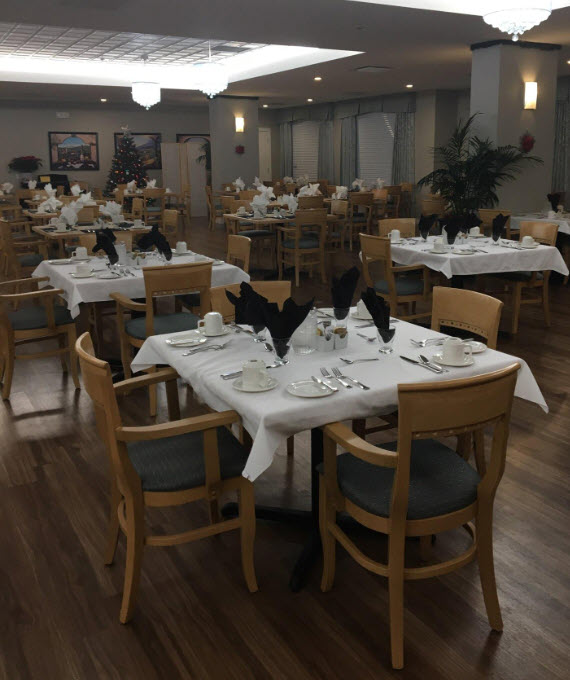 The Belvedere Room is open for lunch and dinner daily for 1.5 hours for each meal, and you choose when you eat!
Fresh whole locally sourced foods are prepared every day by our chefs for your enjoyment.
If you are thinking of a private party, think about booking the Family Dining Room. It's very cosy.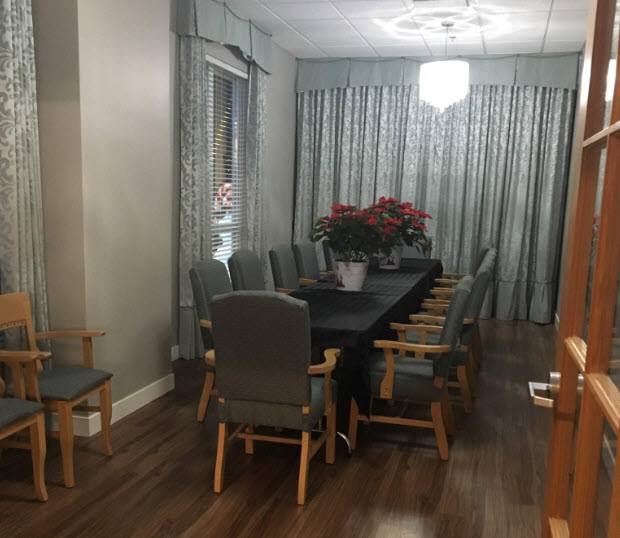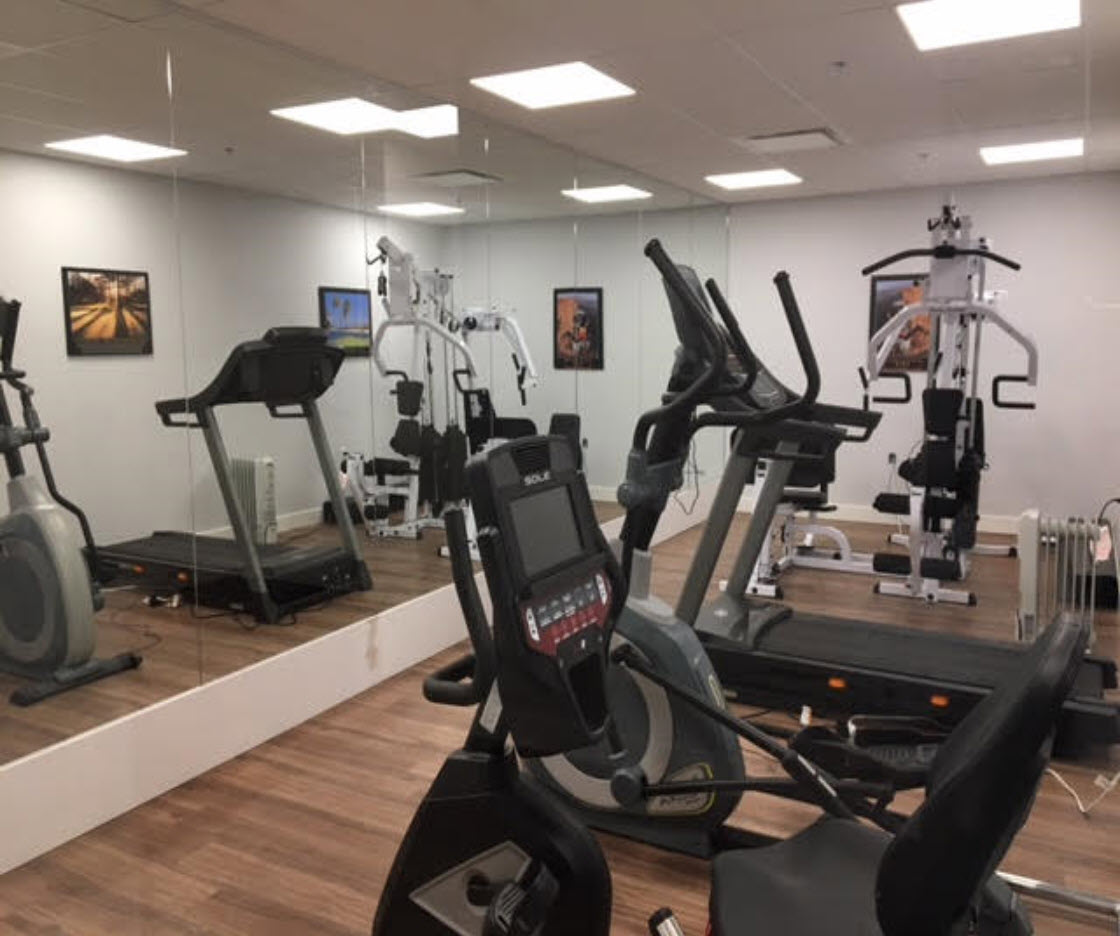 After all the great food here, you might like to spend 15 or 20 minutes watching TV in the fully equipped fitness room. It is open 24 hours.
Our weight machine has multiple stations focused on leg strength, essential for good balance.
Or if you prefer to get some exercise with friends, we have four classes weekly and a kind and caring fitness trainer that will help you get started – one on one – with the weight machine, all included.
They say that good things come in small packages. We think so too. The Healing Place should not be judged by its size. This spa brings holistic natural wellness to its clients by using only what we believe to be the most effective products and treatments. Our essential oils are from DoTerra. Each oil is in its purest form from the truest traditional source. To complement this and true to Cherish's value of engaging technology for the betterment of aging, we bring Comfort Zone skin care products in from Italy. Comfort Zone brings science to nature achieving superior results.
Claudia and Roberto, both very experienced hair stylists offering cuts, colours and perms at affordable prices.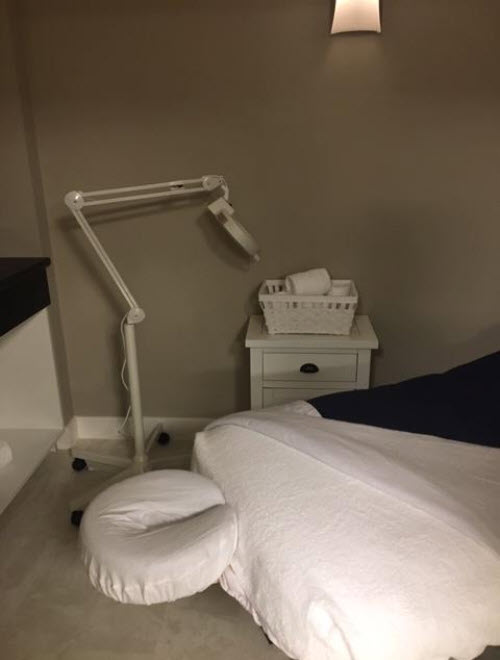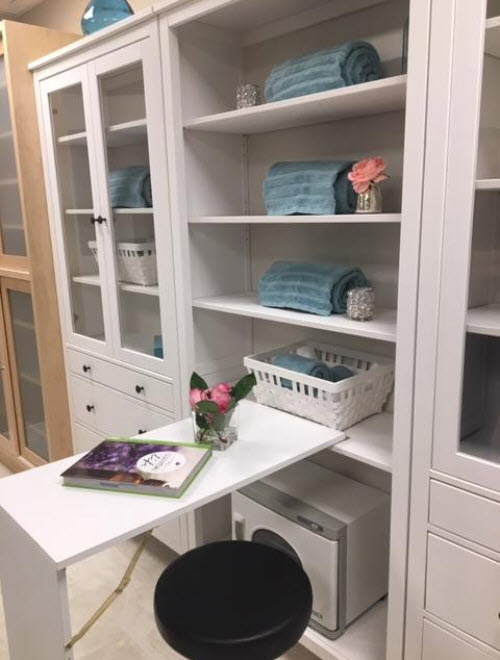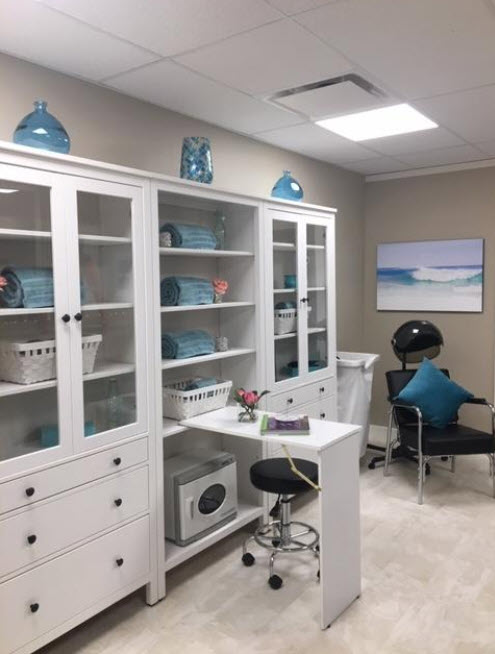 Cherish at Central Park houses Independent Living rental suites, condominiums and the separately owned and unaffiliated Redeemer Lutheran Church of Victoria. The building has frontage and access on three roads; Jacklin, Jenkins and Avrill Roads. The life, fire and safety systems are state of the art with intelligent particulant based smoke detectors, heat sensing sprinkler systems throughout every closet and room in the building, a public address system available to the First Responders so that they may talk to everyone in the building at once and many other upgrades not required by the Fire Code. There are seven floors which includes secure underground parking for cars, scooters and bicycles. There are three elevators in the building, one of which works during power outages because it is hooked to our onsite generator. There are six common laundry rooms for your personal laundry (although we can do that too if you would like) five of which have ironing facilities, an assisted bathing tub, jacuzzi tub, washrooms adjacent to every amenity and common space. The sloped roof is asphalt shingle and the exterior is cementicious siding.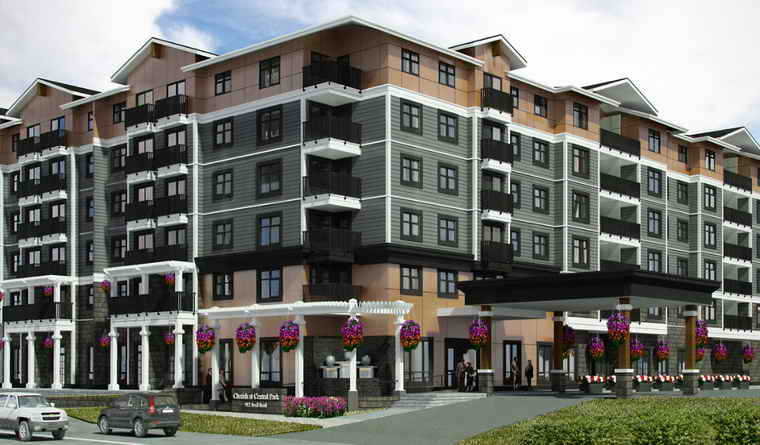 Entrance to Cherish at Central Park from Jenkins Road.
The port cochere at the entry way is well lit and will keep you dry when being dropped off all year long. There is conveniently located bench in the entry vestibule.
View from the Tim Horton's on Jacklin Road.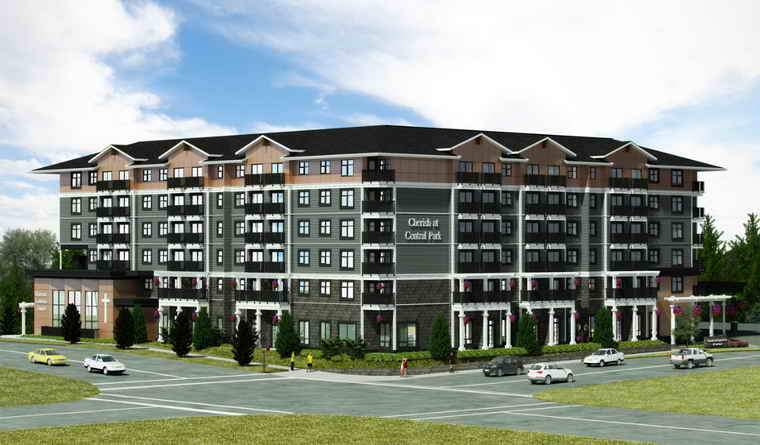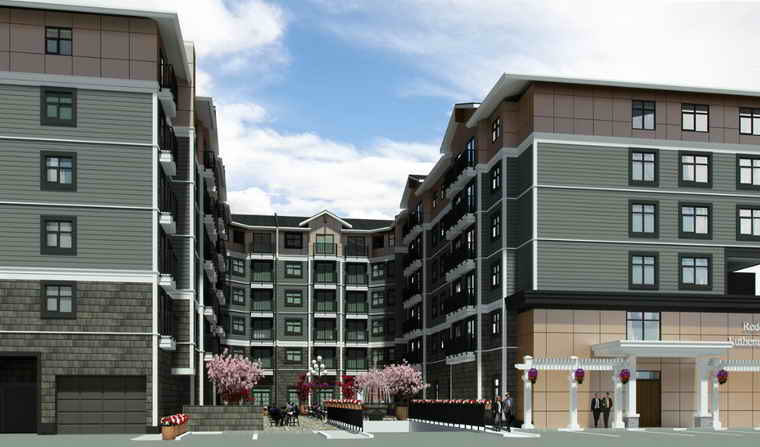 The court yard is a wonderful place for garden parties, raised garden beds, water feature and putting green.
The courtyard width has been specifically designed to ensure every suite has direct sunshine at some point during the day. The entrance to the secure underground parking is at the right of the courtyard.
View of our building from the new Belmont Market Mall. Redeemer Lutheran Church of Victoria owns their own space in our building.
This will be a new church for the congregation that has served Langford from this property since 1954.
New members welcome! Call Pastor Phil Washeim 250-478-4149.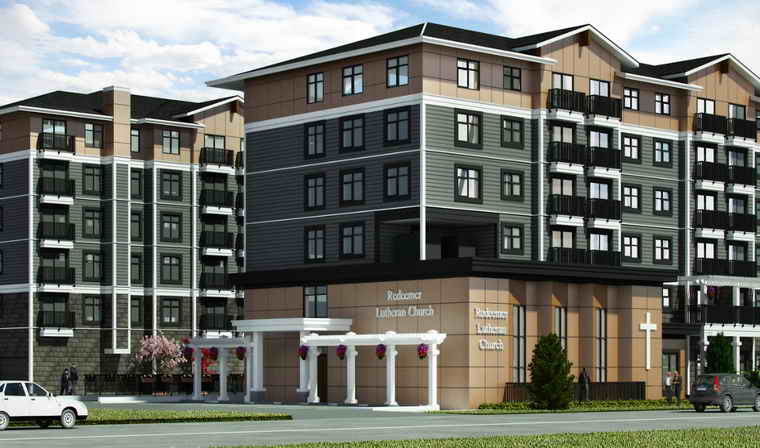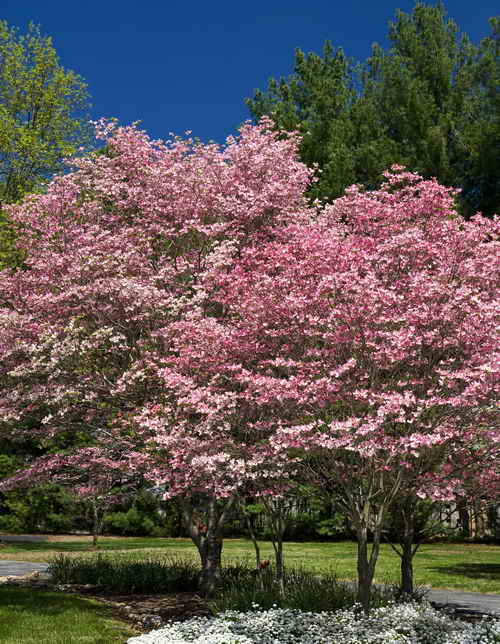 We LOVE gardens and flowers. In our first building we earned a Communities in Bloom award for our hanging baskets. In addition to the splendid plantings Cherish is doing, there is a resident gardening area. Our irrigation is being installed now that our builder has provided the in contract irrigation sleeves and we can proceed. A special BIG thank you to Al Carvalho for watering our baskets all summer long…..
Our garden will have an ever changing array of flowers including real fruit producing trees. We will continue to highlight some of the types of greenery. There are six pink flowering dogwood (Cornus Florida Rubra), three on Jacklin Road and three on Jenkins Road (at the Jacklin/Jenkins corner). It will be a few years before they look like this, but they are spectacular at any size.
Gardeners never grow old, they just spade away!
We help people cherish living. Come by for lunch and a tour. Call Jackie or Micky at 250-478-4431.
TELUS PureFibre is the #1 internet technology in speed and reliability. Fibre optic cable never degrades, which means an always fast, always consistent connection without lag or interruption. This will make using your desktop, laptop or iPad a truly enjoyable experience. Imagine how nice it will be to nestle in and watch a great movie on Netflix without any interruptions! Unlike other providers, TELUS PureFibre delivers 100% fibre right to your suite on a connection that will never slow down, even during peak hours. Cherish at Central Park has the future of technology covered in senior living.